Services provided by


CAIN & CO


in London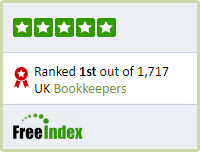 We are proud to be able to include among our clientele sole traders, private individuals, SMEs, partnerships and Limited companies across all manner of business sectors. We offer a full range of accountancy services, including our fixed-fee bookkeeping.
Bookkeeping services
When you started your business, did you do so with intention of spending countless hours dealing with your finances?
The answer to that question is likely to be no, which is handy for us here at Cain & Co as we can help relieve you of your accountancy headaches. By allowing us to take care of your bookkeeping for you, you'll be able to concentrate fully on what you do best – actually running and expanding your business.
Find out more
Software Training
At Cain & Co, we can bring you up to speed with the industry-leading accountancy software packages. We can provide you with training courses that are broken up into manageable, half-day sessions which we feel makes it easier to digest.
We work at a pace that suits you, and it's our aim to bring as much 'enjoyment' out of Software training as we can.
You can decide when and how often you wish to undertake training, and we are flexible in arranging times that will suit you in tandem with the space available in your diary.
Find out more
Payroll and Auto Enrolment
If your company has grown in size so that it has taken on employees, then managing your payroll neatly blesses you with another accountancy headache. Cain & Co can provide you with the perfect antidote to your payroll pains, by providing a first class payroll and auto enrolment service.
You can rely on our dedicated team of payroll experts to process your wages in accordance with your timing requirements, issuing payslips either via post or email. We will also issue you with summary schedules that will help you to understand your HMRC liabilities.
Find out more
Basic Bookkeeping for Beginners Workshops
If you are new to business, then our workshops will be just what you need to start off on a sound financial footing.
Once you have attended our workshop, you will be presented with a free package which is designed to help you manage your finances with confidence plus the option of a 50% discount on our support package.
Find out more