Knowing where you stand as a business with your expenses is paramount and quite frankly, if you are not on top of your costs, it can end up being the downfall of any business, no matter how large or small.
There are mixed views out there regarding pricing on websites but our take on it is clear, if you know our costs in advance, you will know whether we are the right fit for you and vice-versa to be honest.
As we have said before, if you only have a few transactions a month, then we are probably (in a lot of cases, not all) right for you. Our blog 'Who Our Services Are Not For' gives you a brief explanation of our packages.
Understanding what your bookkeeping needs can be a time-consuming process, do you just need a basic service, would you like detailed management accounts, and possibly a virtual Financial Director type service.
Then there's other things to consider like, what is the best accounting software for my business and are there bolt on apps that you can integrate.
Do not despair, Cain & Co are here to help you through these questions and more and give you the information you need to make informed decisions.
The purpose of this blog is to explain which businesses might benefit from the 'Premium Level', so, is it right for you?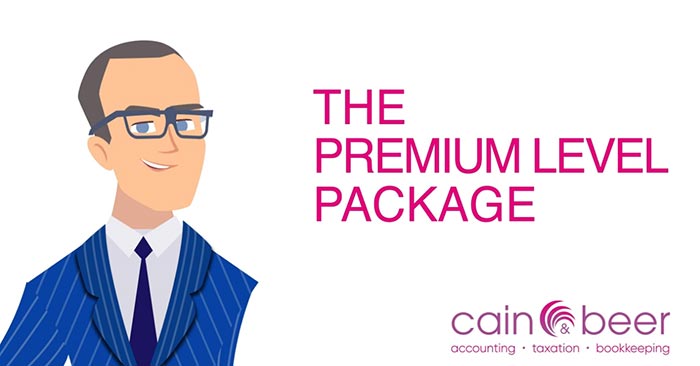 What's Included?
Ok, so you get everything, as you would expect, from our 'Full Package' but on top of that there are some great added bonuses like:
Enhanced Credit Control – If you are struggling to get paid on time, then our dedicated Credit Control team will help you get what is rightfully yours, your hard-earned cash. We will always assume the softly-softly approach; they are your clients after all said and done.
Weekly Reports on Your Key Numbers – Knowing where you stand on KPIs (Key Performance Indicators) is a big part of managing your business. If you have weekly targets and budgets, it is good to know you are in a great space.
Monthly Zoom Review Meetings – Our approach to you having your numbers explained to you in jargon free language, is so very important. During your review, you will understand where you are financially but also have, our expert advice at your disposal. If we spot something that we feel you should know, we will inform you.
Software Assistance & Set-up – You will receive our help in choosing the right Cloud based accounting software for your business. There are a lot of options out there so you will receive our informed knowledge in helping you decide.
Typically, you will have around 300+ transactions a month going through your business consisting of supplier and sales invoices, expenses and bank and credit card transactions.
Generally speaking, these days your bookkeeping can be completed remotely, however, if you would like to have one of our team visit you, then this can be arranged too.
If you would like to discuss this or any of our other packages, you can call us on 020 8087 1341, email paul@cainandbeer.co.uk or get in touch via the website using one of our contact us boxes.