Transparency is paramount in every business transaction, you need to know what your purchase is going to cost and what you can expect to receive for your money.
Bookkeeping is one of the most important investments in every business and it is so important to get your numbers right. That is why when choosing Cain & Co you can rest assured that our team are qualified, experienced, and knowledgeable.
Determining what your bookkeeping needs are can be a time-consuming process, do you just need your books kept up to date, or do you need detailed management accounts, and possibly a financial director type service.
Then there's other things to consider like, what is the best accounting software for my business and are there bolt on apps that you can integrate.
Do not despair, Cain & Co are here to help you through these questions and more and give you the information you need to make informed decisions.
The purpose of this blog is to explain who the 'Full Level' is right for and who it is not for, quite frankly!
Watch our short video is to explain what you can expect to receive when you invest in our Full Level package.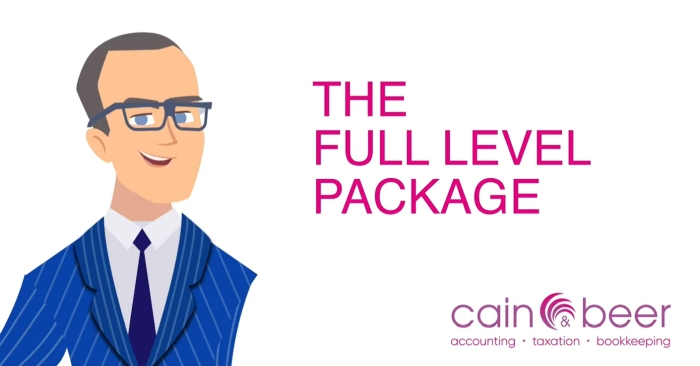 What's Included?
Let us dive straight in, if you are a growing business with ambition and want a bit more from your bookkeeper then this is probably the best package for you.
You will receive all the same benefits as the 'Entry Level Package' but with the 'Full Level' you will get extras like Expense monitoring where we will look at your expenses and check that they fit in with your budgets and stay static as well as look to see if savings can be made.
Also, you will receive benefits like accruals and prepayments, your fixed asset register maintained, full management reporting, debtor monitoring and some credit control if needed and your annual accounts prepared, ready for your accountant.
Typically, you will also have around 250 transactions a month going through your business. These transactions will consist of supplier invoices, sales invoices, expenses and bank and credit card entries.
As with the other packages, we assume that your bookkeeping can be completed remotely but if not do not worry, we can visit your premises too. If you do need us to visit you then we may need to look at the costs of this.
However, it could be the perfect time to change to remote working. You will get the support from us to help you make this transition with the plan to automate as much of your bookkeeping as possible.
If you would like to discuss your options to find out what package is right for you then please get in touch via our website, or you can email us paul@cainandbeer.co.uk or call us on 020 8087 1341 to book a 15 minute no obligation, consultation.